With more than 25 years of providing compliance solutions for clients in the solid waste and landfill industries, Hydrex clients benefit from a higher level of real-world experience. Hydrex offers solutions resulting from a thorough knowledge of solid waste regulatory requirements, that help our clients identify and avoid typically unforeseen compliance problems and meet compliance goals.
It is vital for industry, business, and governmental entities to have timely access to reliable environmental data. Hydrex satisfies this need by providing that data and helping to ensure regulatory compliance through environmental monitoring, efficient data management, and experience-based direction.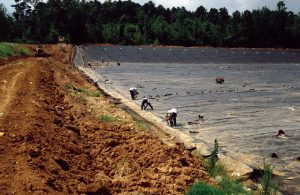 Many regulations governing solid waste disposal facilities are targeted at the protection of groundwater and the control of landfill gas. The Hydrex staff has been at the forefront in facing these challenges, whether imposed through Subtitle D of the Resource Conservation and Recovery Act (RCRA) or through state-based requirements.  Hydrex personnel have the experience and capabilities to manage the environmental planning, permitting, and monitoring needs of both large and small solid waste facilities from inception through post-closure.
Waste handling within the regulatory framework of RCRA Subtitle C and the Comprehensive Environmental Response, Compensation, and Liability Act (CERCLA) and associated state-based regulation can be a complex and time consuming task for those unfamiliar with the requirements. From classification of consistent facility waste streams and waste minimization practices, to efficient and cost effective characterization and disposal of variable and unexpected wastes under the umbrella of CERCLA, Hydrex staff maintains the experience necessary to properly manage landfill and hazardous waste issues.