The Hydrex Drone Division produces high-resolution 3D maps and images of previously inaccessible areas using Flyability's state-of-the-art Elios 3 UAV. From straightforward visual inspections to survey-grade 3D modeling, this service is guaranteed to provide the data you need safely and efficiently with a significant reduction in cost.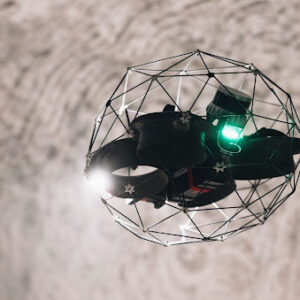 The Hydrex Drone Division produces high-resolution LiDAR (Light Detection and Ranging) maps and 4K videos of dangerous and difficult-to-access areas for inspection or bulk material volume surveys.
Easily access tight, hard-to-reach spaces
Stable and safe real-time 3D mapping
Clear images, even in dark and dusty areas
For years, many industrial inspections have required scaffolding, rigging, ladders, and more to enter hard-to-reach areas, potentially putting personnel in harm's way. With the Elios 3 UAV, these same inspections and mapping projects can be performed in minutes from the safety of the ground.
Designed specifically for indoor missions, this versatile caged drone is equipped with a 360-degree LiDAR scanner, 4K quality video illuminated by 10,000 lumens of onboard lighting, and infrared stabilization.
LiDAR systems work like radar but instead of radio waves, they use a rapidly firing laser to scan with pin-point precision. LiDAR scanning produces 3D point clouds, which are made up of hundreds of thousands of georeferenced points reflecting the physical shape of the area scanned, which can be analyzed, classified, and filtered to produce 3D models. It builds real-time 3D maps, giving it centimeter-accurate locational awareness and obstacle avoidance in tight, confined spots.  
Call our Drone Division experts to benefit from our qualified team's attention to detail, quick turnaround times and cost-effective solutions.